How does it work?
Live video broadcast with a specialist of your choice. From anywhere in the world and at any chosen time. No queues, no crowds, no time wasting.
How does it work >>>
How is it done?
Find the best specialist for yourself, book a visit, and then talk at the set time via a secure Internet connection. Stay anonymous.
How much does it cost?
Select the optimum cost solution for yourself. You know in advance how much you will pay. You save time and money.
Sign up for our newsletter
Promoted specialists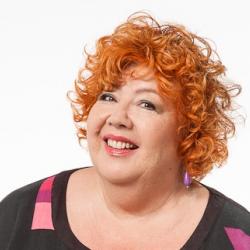 Psychologist, Psychotherapist, Therapist, Speaker, Warszawa
Jedna z najbardziej znanych psychoterapeutek w Polsce. Charyzmatyczna, odważna, dowcipna i pogodna, ale też prowokacyjna i szczera aż do bólu. Psycholożka, psychoterapeutka, filozofka i poetka z ponad 30-letnią praktyką w zakresie terapii indywidualnej, małżeńskiej i grupowej.
Jeżeli szukasz pomocy psychologicznej, żeby nauczyć się nowych, skuteczniejszych sposobów radzenia sobie z trudnymi sytuacjami. Cierpisz na depresję, odczuwasz stany lękowe, a może Twoje niskie poczucie własnej wartości nie pozwala Ci spełniać swoich marzeń i wyznaczonych celów.
Who will the Avigon video-consultation be helpful for?
Avigon.pl offers a wide range of online specialists who conduct professional video-consultations. An online psychologist, psychotherapist, coach or dietitian is an ideal proposal for:
busy ones - you don't have to waste time getting to a specialist's office, there are no queues, traffic jams or freezing at the bus stops,
mothers of small children or those who work a lot and are not able to find time for themselves due to the heavy workload,
people living abroad who do not speak a foreign language well enough to receive stationary therapy,
residents of small towns that are miles away from the nearest psychologist's office or other specialist,
people who travel a lot and often change places of stay,
physically disabled people - therapy at an online psychotherapist, coach or psychologist eliminates barriers of physical access to a specialist, e.g. a barrier of a long journey for people in wheelchairs,
undecided people who abandon their anxiety and fear of openness and lack of anonymity online,
shy, introverted people who are reluctant to talk about their problems - the lack of direct contact is often a great help for them and helps in opening up.
In which situations should one use Avigon video therapy?
Are you in a difficult situation and you can't handle it? Would you like to understand your problems? Your mood has worsened? You can't cope with your emotions and feelings? Are you experiencing a personal crisis, in your relationship, in your family? Have you experienced loss? You lack motivation and self-confidence? Don't you feel fulfilled professionally? Does the pressure at work overwhelm you? Have you noticed any disturbing symptoms or behaviour in your child? Have you experienced violence? You can't deal with addiction? Do you need help changing your eating habits?
At Avigon.pl you will find a number of experienced and qualified specialists whose thorough knowledge and skills will help you face problems, fears, achieve well-being, repair relationships, change thought patterns, accept yourself, become aware of your needs or achieve your goals. Those are among others:
An online psychologist will listen to you, help you understand the problem, give guidance, support you on the way to recovery. An online psychologist will help you cope with the problem or refer you to other necessary specialized treatment.
An online psychotherapist will help you deal with your problems through regular contact and conversation. Use his help if you want to understand your emotions, deal with brakes or blockades in your head or regain control over your own behavior. Be sure to see a psychotherapist if you feel anxiety, personality disorder or depression.
An online coach will help you make better use of your potential, support you in developing and improving the skills you already have and help you in your personal and professional development.
Dietician, online psychodietician will motivate you to change your diet and help you to individually adapt an effective diet. Feel beautiful and attractive with the help of an online dietitian.
However, online psychological support is not for everyone. When hallucinations, delusions or suicidal thoughts appear, a direct meeting is necessary.