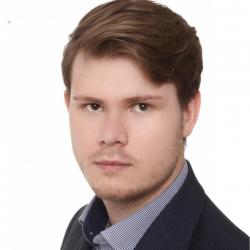 mgr Radosław Kabut
Book consultation
Psychologist,
Psychotherapist,
Psychologist describe

Work methods:

Cognitive-behavioral therapy,

Terapia skoncentrowana na rozwiązaniach,

Other,

Help Areas:

Aggression,

Self-presentation,

Insomnia,

Affective disorder,

Alzheimer's disease,

ACoA Syndrom,

Dementia,

Depression,

Adolescence,

Dyslexia,

Phobias,

FOMO (fear of missing out),

Hypochondria,

Anorexia nervous,

Communication competence,

Communication in life,

Anxiety - neurosis,

Mobbing,

Motivation,

Mutism,

Suicidal thoughts,

Overweight and obesity,

Obsessions,

Shyness,

Low self-esteem,

Personality,

Dementia,

Workaholism,

Problems with memory,

Violence,

Personal development,

Self-mutilation,

Self-realization,

Loneliness,

Decrease in performance and immunity,

Loss of a loved one ,

Stress,

Trauma,

Burnout,

Eating disorders,

Mental disorders,

Sleep disturbance,

Mourning,

Betrayal,

Sanity,

Panic syndrome,

Post-traumatic stress disorder,

Change,

work ways:

Works with youth,

Works with adults,

Patient age:

15+

Practice:

3 years

Languages:

Polish, English,
Price list

| | |
| --- | --- |
| - Initial visit / interview 50min | 160,00 zł |
| - Basic visit 50min | 160,00 zł |
| - Chat consultation 0.5h | 70,00 zł |
| - Basic visit 0.5h | 100,00 zł |
| - Chat consultation 50min | 100,00 zł |
| - Video visit (sessions ones a week) 50min | 160,00 zł |
Click a free slot in the calendar to book a consultation
2022
Monday

Mon




15 aug

Tuesday

Tue




16 aug

Wednesday

Wed




17 aug

Thursday

Thu




18 aug

Friday

Fri




19 aug

Saturday

Sat




20 aug

Sunday

Sun




21 aug
There isn't any free slot in that week
Free cancellation or change of reservation 12h before the visit
Qualifications and experience
Qualifications:
Psycholog
psychoterapeuta poznawczo-behawioralny w trakcie procesu certyfikacyjnego
Redaktor Tekstów Popularnonaukowych
Studium Psychologii Sądowej
Doświadczenie w pracy w Poradni Zdrowia Psychicznego
School:
2019 Uniwersytet Jagielloński
Company city
Kraków - małopolskie
About me
About me (PL):
Hej! Nazywam się Radek.
Jestem absolwentem jednolitych studiów magisterskich z psychologii na Uniwersytecie Jagiellońskim oraz psychoterapeutą w trakcie certyfikacji w zakresie psychoterapii poznawczo-behawioralnej w akredytowanej szkole psychoterapii "Tercognitiva" w Krakowie.
Doświadczenie zawodowe zdobywam pracując w Centrum Poznawczo-Behawioralnym Ad Rem w Krakowie, gdzie prowadzę terapię indywidualną osób dorosłych.
Pracuję na Oddziale Klinicznym Neurologii w SP ZOZ w Proszowicach, na którym jestem odpowiedzialny za przeprowadzanie diagnoz neuropsychologicznych, terapii psychologicznych oraz treningów poznawczych. W ramach konsultacji na oddziałach ginekologiczno-położniczym, pulmonologii oraz chirurgii ogólnej gromadzę doświadczenie w zakresie interwencji kryzysowej oraz opieki penitencjarnej. Część czasu poświęcam na pracę przy badaniach klinicznych nad lekami na różne choroby neurozwyrodnieniowe (m.in. na chorobę Alzheimera) w Krakowskiej Akademii Neurologii.
Kwalifikacje zawodowe podnoszę przez analizowanie najnowszych doniesień z badań, uczestnictwo w akredytowanych szkoleniach, konferencjach naukowych oraz poddajac swoją pracę regularnej superwizji.
Oprócz pracy o charakterze terapeutycznym/klinicznym jestem również związany z życiem akademickim realizując doktorat w Szkole Doktorskiej Nauk Społecznych w dyscyplinie psychologia, w trakcie którego prowadzę badania nad usprawnianiem funkcjonowania pamięci u osób cierpiących na chorobę Parkinsona.
W wolnych chwilach spędzam czas na zabawach z moim psem i kotem, górskich wędrówkach, graniu w gry planszowe i karciane, a w sezonie zimowym jeżdżąc na nartach.
Dziękuję Ci za poświęcony czas! Serdecznie zapraszam do kontaktu.
e-mail: psycholog.kabut@gmail.com
Opinie
Client
Opinion
Rate

Anonymous

Opinion:

Godzinny chat bardzo mi pomógł, pełen profesjonalizm. :)
Ask a question
If you would like to ask any question mgr Radosław Kabut, type your message and email in form below. Our specialist will answer your questions as soon as possible.
We will send a reply on your email.