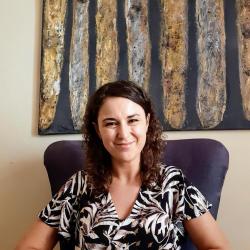 mgr Daria Roszak
Book consultation
Support package,
Therapist,
Dietician,
Psychodietician,
Addiction therapist,
Psychologist describe

Work methods:

Cognitive-behavioral therapy,

Addiction therapy,

Open Dialogue,

Other,

Help Areas:

Anorexia,

Bulimia,

Anorexia nervous,

Motivation,

Overweight and obesity,

Underweight,

Personal development,

Loneliness,

Addiction,

Eating disorders,

Voracity,

Change,

work ways:

Pracuje z dorosłymi,

Patient age:

18+

Practice:

10 lat

Languages:

Spanish, Polish, English,
Price list

| | |
| --- | --- |
| - Initial dietary consultation 1h | 100,00 zł |
| - Video visit (sessions ones a week) 1h | 100,00 zł |
| - Healthy eating workshops 1h | 130,00 zł |
| - Chat consultation 0.5h | 40,00 zł |
| - Chat consultation 1h | 80,00 zł |
| - Primera consulta con nutricionista 1h | 100,00 zł |
| - Consulta online 1h | 100,00 zł |
| - Taller de cocina saludable 1h | 130,00 zł |
| - Support (video) 0.5h | |
| - Pakiet (chat) 0.5h | |
| - Support (video) 50min | |
| - Abonament (wideo) 1h | |
Click a free slot in the calendar to book a consultation
2021
Monday

Mon




25 oct

Tuesday

Tue




26 oct

Wednesday

Wed




27 oct

Thursday

Thu




28 oct

Friday

Fri




29 oct

Saturday

Sat




30 oct

Sunday

Sun




31 oct
Free cancellation or change of reservation 24h before the visit
Qualifications and experience
Qualifications:
Dietetyka
Zdrowie Publiczne - Specjalność Dietetyka
Żywienie i Suplementacja Osób Aktywnych Fizycznie
Terapia Uzależnień
Mindfulness
Terapia Uzależnień i Rozwój Osobisty
Mindfulness i Zdrowie
School:
2011 Śląski Uniwersytet Medyczny w Katowicach
2009 Śląski Uniwersytet Medyczny w Katowicach
2014 Akademia Wychowania Fizycznego w Katowicach
2020 Bircham International University
2019 Bircham International University
2020 Lidera Wellness School
2019 Lidera Wellness School
About me
About me (ENG):
Welcome to my profile! It is not a coincidence that you are here. My name is Daria and I am a professional dietitian and also a great fan of anything that involves nutrition. I enjoy cooking and I savor each bite of food. I love sharing my cooking with others, for instance at online healthy eating workshops. In the therapy sessions with my patients I also focus on developing healthy and harmonious relation with food and the patient's own self. In my work I combine the knowledge from various areas of dietetics, psychology, alternative therapies and my own experience from the field of food guidance and emotions. I am constantly learning simply because it is great fun and, importantly, because it helps me help you in the most custom way. Each patient varies, has different experience and expectations. That is why during individual consultations I strive to find the root cause of the problem and then we work together to achieve your goal. Shall we start?
Opinie
Client
Opinion
Rate

Ewa

Opinion:

Od niemal dwudziestu lat walczyłam z nadwagą, walczyłam z kompleksami, walczyłam z niekontrolowanymi atakami objadania się. Dopiero dzięki Darii zrozumiałam, że zamiast bez przerwy ze sobą walczyć, powinnam się o siebie zatroszczyć. To pomogło mi dostrzec, że samo odchudzanie nie musi być drogą przez mękę usianą wyrzeczeniami i poświęceniem, lecz może być procesem samym w sobie dającym wiele radości i satysfakcji. Choć spotykamy się od już od kilku miesięcy, wciąż każda sesja wnosi coś nowego, każda czegoś uczy, każda przybliża mnie do celu. Daria jest nie tylko skarbnicą wiedzy związanej z żywieniem, ale i niewyczerpanym źródłem ciepła, empatii i życzliwości.

Sylwia Waligóra

Opinion:

Przede wszystkim... Daria to przecudna osoba!! Jako weteran terapii (u różnych specjalistów) z przyjemnością mogę stwierdzić, że to w końcu człowiek, który sprawia, że zdrowieje. Na terapii zrozumiałam, że by zbudować dach najpierw trzeba zalać fundamenty (nigdy na odwrót). Z całego serca polecam wszystkim tym , którzy jak ja niby wiedzą już wszystko... a jednak nie wiedzą nic.

Anonymous

Opinion:

Przyjazne podejście i rozmowa od serca.

Anna Stróżyńska

Opinion:

Pani Daria jest bardzo zaangażowaną terapeutką, autentyczną osobą, co sprawia że łatwiej jest się otworzyć i rozpracowywać problemy. Widać, że ma spore doświadczenie po tym jak prowadzi rozmowę, uważnie słucha i prowadzi dialog oraz daje cenne wskazówki. Dzięki naszym spotkaniom mam nadzieję i prawie pewność, że tym razem nauka racjonalnego żywienia, dbania o siebie i zmagania się z zaburzeniami odżywiania będzie skuteczna i razem uda nam się przywrócić mi równowagę w tym zakresie, dziękuję za poświęcony czas !
Ask a question
If you would like to ask any question mgr Daria Roszak, type your message and email in form below. Our specialist will answer your questions as soon as possible.
We will send a reply on your email.