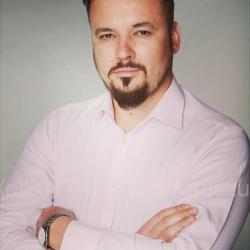 mgr Wojciech Kopytek
Book consultation
Psychologist,
Psychotherapist,
Coach,
Therapist,
Mentor,
Child psychologist,
Pedagogue,
Psychologist describe

Work methods:

Cognitive-behavioral therapy,

Cognitive therapy,

Behavioral therapy,

Help Areas:

Adoption,

Aggression,

Alcoholism,

Anorexia,

Bulimia,

Affective disorder,

Alcoholic disease,

ACoA Syndrom,

Depression,

Phobias,

FOMO (fear of missing out),

Hypochondria,

Anorexia nervous,

Anxiety - neurosis,

Mania,

Mobbing,

Motivation,

Suicidal thoughts,

Overweight and obesity,

Obsessions,

Shyness,

Low self-esteem,

Personality,

Problems of parish,

Educational problems with children,

Violence,

Psychosis,

Divorce,

Self-mutilation,

Loneliness,

Sexoholism,

Stress,

Addiction,

Eating disorders,

Mental disorders,

Sleep disturbance,

Compulsive buying disorder,

Voracity,

Mourning,

Betrayal,

Sanity,

Panic syndrome,

Post-traumatic stress disorder,

work ways:

Pracuje z młodzieżą,

Pracuje z rodzinami,

Pracuje z dorosłymi,

Pracuje z dziećmi,

Pracuje z parami,

Patient age:

3+

Practice:

12 lat

Languages:

Polish, English,
Price list

| | |
| --- | --- |
| - Initial visit / interview 1h | 150,00 zł |
| - Chat consultation 1h | 130,00 zł |
| - Basic visit 1h | 130,00 zł |
| - Basic visit 1.5h | 200,00 zł |
Click a free slot in the calendar to book a consultation
2022
Monday

Mon




17 jan

Tuesday

Tue




18 jan

Wednesday

Wed




19 jan

Thursday

Thu




20 jan

Friday

Fri




21 jan

Saturday

Sat




22 jan

Sunday

Sun




23 jan
There isn't any free slot in that week
Free cancellation or change of reservation 24h before the visit
Qualifications and experience
Qualifications:
Psycholog, CBT,
Psychologia Kryzysu i Interwencji Kryzysowej
Psychotraumatologia
Uprawnienia pedagogiczne
Szkoła Psychoterapii Poznawczo Behawioralnej przy SWPS Uniwersytecie Humanistycznospolecznym
School:
2009 SWPS Uniwersytet Humanistycznospołeczny
2010 SWPS Uniwersytet Humanistycznospołeczny
2012 SWPS Uniwersytet Humanistycznospołeczny
2015 Państwowa Wyższa Szkoła Zawodowa w Skierniewicach
2021 SWPS Uniwersytet Humanistycznospołeczny
Company city
Skierniewice - łódzkie
About me
About me (ENG):
Wojciech Igor Kopytek is a Skierniewice-based psychologist specializing in crisis intervention, psychotraumatology, cross - cultural psychology, cognitive-behavioral therapy (CBT) . Wojciech received a broad education. He completed his Master studies in psychology & political marketing. In addition, he obtained a four postgraduate Diplomas at the Warsaw School of Social Sciences and Humanities/SWPS and one postgraduate Diploma in PWSZ in Skierniewice. Since 09.2015 Wojciech works on a PhD degree at The Institute of Psychology Polish Academy of Sciences
Since 2010 to 07.2015 Wojciech worked for Hospital in Skierniewice - mental health counselling centre as well as he hes a private practice & he is a private business entity. In 2013 Wojciech has created MOWOKO Sp. z o.o. (LTD), he is The President of the Management Board, shareholder in a company & owner at MOWOKO Sp. z o.o.
Wojciech has wide experience with psychological testing, psychological assessment, psychotherapy of trauma, psychotherapy of PTSD, CBT, and treatment of mental disorders, research, entrepreneurship and leadership.
Ask a question
If you would like to ask any question mgr Wojciech Kopytek, type your message and email in form below. Our specialist will answer your questions as soon as possible.
We will send a reply on your email.