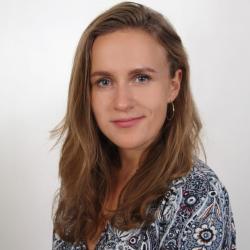 mgr Weronika Żłobicka
Book consultation
Psychologist,
Addiction therapist,
Psychologist describe

Work methods:

Interpersonal therapy,

Addiction therapy,

Help Areas:

Alcoholism,

Insomnia,

Affective disorder,

Alcoholic disease,

ACoA Syndrom,

Depression,

Communication competence,

Communication in life,

Anxiety - neurosis,

Suicidal thoughts,

Shyness,

Low self-esteem,

Borderline personality disorder,

Workaholism,

Educational problems with children,

Psychosis,

Personal development,

Self-mutilation,

Self-realization,

Loneliness,

Schizophrenia,

Sexoholism,

Loss of a loved one ,

Addiction,

Nicotine addiction,

Codependency,

Sanity,

work ways:

Works with youth,

Works with adults,

Patient age:

15+

Practice:

3 years

Languages:

Polish,
Price list

| | |
| --- | --- |
| - Video visit (sessions ones a week) 50min | 120,00 zł |
Click a free slot in the calendar to book a consultation
2022
Monday

Mon




15 aug

Tuesday

Tue




16 aug

Wednesday

Wed




17 aug

Thursday

Thu




18 aug

Friday

Fri




19 aug

Saturday

Sat




20 aug

Sunday

Sun




21 aug
There isn't any free slot in that week
Free cancellation or change of reservation 24h before the visit
Qualifications and experience
Qualifications:
Profilaktyka i terapia uzależnień behawioralnych
English for Psychology - C1
Kurs Mindfulness Based Stress Reduction
School:
2018 Fundacja Praesterno
2018 Akademia Pedagogiki Specjalnej
2020 Pracownia Mindfulness&Compassion
About me
About me (PL):
Obecnie pracuję jako terapeutka w Mazowieckim Centrum Neuropsychiatrii, a dokładnie w Ośrodku Rehabilitacji Uzależnień i Podwójnej Diagnozy dla młodzieży w Otwocku.
Swoje doświadczenie zdobywałam w Telefonie Zaufania Dla Dzieci i Młodzieży, Centrum Wsparcia dla Osób w Stanie Kryzysu Psychicznego, Całodobowej Linii dla Dzieci, Młodzieży, Rodziców i Nauczycieli, a także prowadząc zajęcia socjoterapeutyczne oraz liczne warsztaty z zakresu umiejętności psychologicznych czy profilaktyki.
Udzielałam wsparcia psychologicznego podczas konferencji organizowanych przez Polskie Towarzystwo Suicydologiczne "Życie warte jest rozmowy". Posiadam doświadczenie w przeprowadzaniu interwencji kryzysowej.
Ukończyłam szkolenia z zakresu profilaktyki uzależnień, uzależnień behawioralnych, obecnie jestem w procesie certyfikacji na specjalistę psychoterapii uzależnień.
Ukończyłam 8 tygodniowy kurs Mindfulness Based Stress Reduction, a podejście oparte na uważności i współczuciu jest mi bardzo bliskie. Interesuje się holistycznym podejściem do zdrowia, poza psychologią uwzględniając w swojej pracu wiedzę z takich dziedzin jak psychosomatyka, neurobiologia czy ajurweda.
Ask a question
If you would like to ask any question mgr Weronika Żłobicka, type your message and email in form below. Our specialist will answer your questions as soon as possible.
We will send a reply on your email.