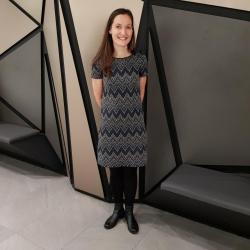 mgr Urszula Kruczkowska
Book consultation
Psychologist,
Psychotherapist,
Coach,
for Santander Bank Polska,
Support package,
Therapist,
Child psychologist,
Adolescent Psychologist,
Pedagogue,
Trainer,
Psychologist describe

Work methods:

Cognitive-behavioral therapy,

Terapia skoncentrowana na rozwiązaniach,

Other,

Help Areas:

ADHD,

Aggression,

Insomnia,

Depression,

Phobias,

Anxiety - neurosis,

Mania,

Motivation,

Suicidal thoughts,

Obsessions,

Shyness,

Low self-esteem,

Workaholism,

Educational problems with children,

Divorce,

Self-mutilation,

Loneliness,

Stress,

Sleep disturbance,

Mourning,

Panic syndrome,

Post-traumatic stress disorder,

work ways:

Pracuje z młodzieżą,

Pracuje z rodzinami,

Pracuje z dorosłymi,

Pracuje z dziećmi,

Patient age:

3+

Practice:

8 lat

Languages:

Polish, English,
Price list

| | |
| --- | --- |
| - Chat consultation 1h | 40,00 zł |
| - Basic visit 1h | 70,00 zł |
| - Initial visit / interview 1.5h | 100,00 zł |
| - Chat dla Santander Bank Polska 0.5h | |
| - Support (video) 0.5h | |
| - Support (video) 50min | |
Click a free slot in the calendar to book a consultation
2022
Monday

Mon




17 jan

Tuesday

Tue




18 jan

Wednesday

Wed




19 jan

Thursday

Thu




20 jan

Friday

Fri




21 jan

Saturday

Sat




22 jan

Sunday

Sun




23 jan
There isn't any free slot in that week
Free cancellation or change of reservation 24h before the visit
Qualifications and experience
Qualifications:
Psychologia
Resocjalizacja i Wsparcie Rodziny
Coaching
Terapia Akceptacji i Zaangażowania
Terapia Poznawczo-Behawioralna
School:
2014 UKSW
2009 APS
2015 WSNS
2019 Mindfulness Training
2022 University of Hertfordshire
About me
About me (ENG):
Counselling and CBT Practitioner
I am an experienced CBT and ACT therapist, offering short term focused counselling and longer-term psychotherapy.
CBT helps people to identify and challenge negative, unhelpful thought patterns, and replace these with ones that are more helpful. By recognising and changing these negative patterns, it can help to change the way we think, feel and behave.
My experience is varied, and I have spent the last ten years supporting people with challenges in their life - from acute crisis to a general feeling that something does not quite fit. I work with individuals (adults, children and young people), couples and families, according to the ethical standards of BPS, and BACP.
I undertake regular supervision and on-going CPD.
These are just some of the areas I can help you with:
Anxiety / Panic Attacks / Stress
Depression
OCD (Obsessive Compulsive Disorder)
Relationships / Separation / Divorce
Bereavement, loss and separation
Trauma and crisis
Training, qualifications
* ACT – Acceptance and Commitment Therapy Training Course
* Cognitive-Behavioral Therapy Diploma
* Certificate in Solution Focused Therapy
* Coaching diploma
* Psychology – Master - UKSW
Professional registrations
* BACP - British Association for Counselling & Psychotherapy (Reg. MBACP)
* BPS - British Psychological Society (Chartered Psychologist)
Opinie
Client
Opinion
Rate

Anonymous

Opinion:

Polecam wszystkim, którzy chcą zmienić coś w swoim życiu. Rzeczowe podejście do problemu,skoncentrowane na rozwiązaniach. Już po pierwszej konsultacji mogłem zauważyć zmianę w sposobie myślenia, co od razu pozytywnie przełożyło się na postrzeganie sytuacji, które wcześniej uważałem za problematyczne.

Anonymous

Opinion:

Jeśli szukasz dobrego psychologa oraz Life Coacha to dobrze trafiłeś, po kilku sesjach z człowieka wypalonego zawodowo udało mi się stanąć na nogi i podążać inną lepszą drogą, drogą która stoi w zgodzie z moimi przekonaniami i pragnieniami. Polecam każdemu kto jest w ciężkim momencie życia.

Anonymous

Opinion:

Właściwa osoba na właściwym miejscu, bardzo polecam.

Anonymous

Anonymous

Opinion:

W dzisiejszych czasach trudno o specjalistę z powołania. Pani Urszula bezwątpienia do takich osób należy. Duży szacunek za informacje i konkretne rady w trudnościach z opanowaniem chaosu z którym każdy z nas boryka się trafiając i sięgają po pomoc, mówie to rónież jako pedagog lecz z całkowicie innym spojżeniem na problematykę.POLECAM

Anonymous

Opinion:

Polecam spotkania z Panią Urszulą. Łatwiej jest zrozumieć siebie I otoczenie.

Anonymous

Opinion:

Pani bardzo ciepła, czułam, że mogę powiedzieć o wszystkim, dostałam dużo wsparcia i dobrych rad. Bardzo polecam, jeśli się ktoś waha, to śmiało można się umówić na wizytę.

Anonymous

Opinion:

Bardzo pomocna konsultacja, Pani Urszula jest bardzo miła i przyjemnie się razem współpracuje. Polecam :)

Anonymous

Opinion:

Bardzo miła i sympatyczna Pani , spokojnie próbuje nakreślić każdy szczegół rozmowy. Polecam

Damian Pudło

Opinion:

Bardzo pomocna konsultacja

Anonymous

Opinion:

Jestem zadowolona z konsultacj i z Panią Aleksandrą ,dowiedziałam się wielu cennych informacji i wskazówek ,które są cenne.

Anonymous

Opinion:

Bardzo profesjonalnie i rzeczowe podejście do pacjenta. Pierwsza wizyta bardzo pozytywna. Serdecznie polecam.

Anonymous

Opinion:

Bardzo ciekawa konsultacja. Pani Urszula dała mi dużo do myślenia :) z pewnością nie będzie to moja ostatnia rozmowa
Ask a question
If you would like to ask any question mgr Urszula Kruczkowska, type your message and email in form below. Our specialist will answer your questions as soon as possible.
We will send a reply on your email.