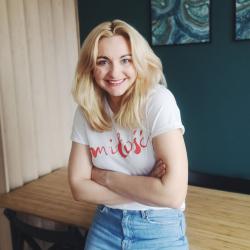 mgr Sandra Panuś
Book consultation
Coach,
Therapist,
Pedagogue,
Speaker,
Life Coach,
Psychologist describe

Work methods:

Terapia skoncentrowana na rozwiązaniach,

Other,

Help Areas:

Business communication,

Communication in life,

Personal brand,

Motivation,

Shyness,

Low self-esteem,

Personality,

Personal development,

Self-realization,

Profile brand,

Change,

Patient age:

18+

Practice:

11 lat

Languages:

Polish,
Price list

| | |
| --- | --- |
| - Basic visit 2h | 350,00 zł |
Click a free slot in the calendar to book a consultation
2021
Monday

Mon




10 may

Tuesday

Tue




11 may

Wednesday

Wed




12 may

Thursday

Thu




13 may

Friday

Fri




14 may

Saturday

Sat




15 may

Sunday

Sun




16 may
There isn't any free slot in that week
Qualifications and experience
Qualifications:
Coach ICC
Pedagog społeczny
Terapeutka
Studium Profesjonalnej Psychoterapii
School:
2019 International Coaching Community
2010 Uniwersytet Gdański
2020 Centrum Terapii Krótkoterminowej
Company city
Płock - mazowieckie
About me
About me (PL):
Z zawodu pedagog społeczny, z pasji i zauroczenia rozwojem – coach ICC, Terapeutka TSR (Terapii Skierowanej na Rozwiązaniach)
Od 5 lat organizuję autorskie kobiece spotkania "Porozmawiajmy o…", których celem jest przede wszystkim bycie razem, budowanie więzi. Od 2017 roku jestem ambasadorką fundacji Olgi Kozierowskiej Sukces Pisany Szminką i organizuję w Płocku spotkania "Sukces to Ja", które mają na celu aktywizację kobiet. Są to spotkania rozwijające tak zwane umiejętności miękkie.
W 2019r. ukończyłam kurs i zostałam certifikowanym coachem w organizacji International Coaching Community.
w 2020r. zostałam terapeutką i pracuję z klientami w nurcie psychologicznym TSR (Terapia skoncentrowana na Rozwiązaniach)
w 2021r. rozpoczełam Studium Profesjonalnej Psychoterapii w Centrum Terapii Krótkoterminowej.
Zmiana jest moim paliwem i z tej mocy powstał mój e-book "Moc zmiany. Poznaj działanie zmiany i spróbuj się z nią zaprzyjaźnić." E-book "Moc zmiany" to zeszyt do pracy z narzędziami i ważnymi pytaniami. Pomaga zrozumieć proces zmiany, przyjrzeć się swojej obecnej sytuacji, potrzebom.
Ask a question
If you would like to ask any question mgr Sandra Panuś, type your message and email in form below. Our specialist will answer your questions as soon as possible.
We will send a reply on your email.