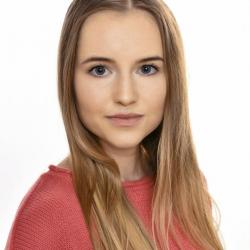 mgr Paulina Literska
Book consultation
Psychologist,
Psychotherapist,
Psychologist describe

Work methods:

Psychodynamic therapy,

Other,

Help Areas:

ACoA Syndrom,

Phobias,

Communication in life,

Anxiety - neurosis,

Motivation,

Suicidal thoughts,

Obsessions,

Shyness,

Low self-esteem,

Personality,

Borderline personality disorder,

Violence,

Personal development,

Loneliness,

Strata bliskiej osoby,

Stress,

Współuzależnienie,

Mental disorders,

Compulsive buying disorder,

Mourning,

Betrayal,

Sanity,

Change,

work ways:

Pracuje z dorosłymi,

Patient age:

18+

Practice:

5 lat

Languages:

Polish,
Price list

| | |
| --- | --- |
| - Chat consultation 15min | 50,00 zł |
| - Initial visit / interview 50min | 110,00 zł |
| - Basic visit 50min | 90,00 zł |
Click a free slot in the calendar to book a consultation
2022
Monday

Mon




24 jan

Tuesday

Tue




25 jan

Wednesday

Wed




26 jan

Thursday

Thu




27 jan

Friday

Fri




28 jan

Saturday

Sat




29 jan

Sunday

Sun




30 jan
There isn't any free slot in that week
Free cancellation or change of reservation 2h before the visit
Qualifications and experience
Qualifications:
Psycholog, Psychoterapeuta
School:
2019 Uniwersytet SWPS - Psychologia: Specjalność - kliniczna i zdrowia
2020 Uniwersytet SWPS - Studia podyplomowe - Diagnoza Psychologiczna w Praktyce Klinicznej
Instytut Studiów Psychoanalitycznych im. Hanny Segal - W trakcie Szkolenia Psychodynamicznego do Certyfikatu Psychoterapeuty
Company city
Warszawa - mazowieckie
About me
About me (PL):
Jestem Psychologiem - absolwentką Uniwersytetu SWPS w Warszawie - ukończyłam studia magisterskie z Psychologii o specjalności kliniczna i zdrowia. Skończyłam również studia podyplomowe o kierunku Diagnoza Psychologiczna w Praktyce Klinicznej. Jestem także psychoterapeutą w trakcie szkolenia psychodynamicznego do certyfikatu psychoterapeuty. To co mnie fascynuje to motywacja i sprawcy zabójstw, jednak to do czego dążę na co dzień, to pomoc osobom zmagającym się z różnymi trudnościami swojego życia. Co więcej - cechuje mnie uważność, umiejętność aktywnego słuchania, a przede wszystkim wysoki poziom empatii. Z całą odpowiedzialnością̨ mogę̨ stwierdzić́, że jestem psychologiem nie tylko z zawodu, ale przede wszystkim z pasji. Doświadczenie zawodowe zdobywałam w Centrum Zdrowia Psychicznego w Słupsku, w firmie Go-Work.pl w dziale rekrutacji oraz szkoleń, w Areszcie Śledczym w Warszawie-Służewcu, w Instytucie Psychiatrii i Neurologii w Klinice Nerwic, Zaburzeń Osobowości i Odżywiania oraz w Klinice Psychiatrii Sądowej. Swoją pracę poddaje regularnej superwizji. Oferuję pomoc opartą na nurcie psychodynamicznym w bezpiecznej i dyskretnej atmosferze. Jeżeli nie ma w kalendarzu miejsc na wizytę, bardzo proszę o wiadomość, a z pewnością znajdę dogodny termin.
Ask a question
If you would like to ask any question mgr Paulina Literska, type your message and email in form below. Our specialist will answer your questions as soon as possible.
We will send a reply on your email.