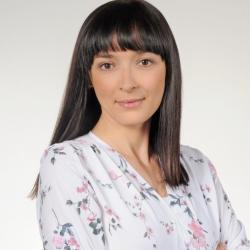 dr n. med Monika Ponichtera-Kasprzykowska
Book consultation
Psychologist,
Therapist,
Psychogerontolog,
Career counselor,
Psychologist describe

Work methods:

Cognitive-behavioral therapy,

Integrative therapy,

Other,

Help Areas:

Depression,

Anxiety - neurosis,

Stress,

Alzheimer's disease,

Dementia,

Hypochondria,

Motivation,

Suicidal thoughts,

Overweight and obesity,

Low self-esteem,

Personality,

Dementia,

Problems with memory,

Personal development,

Loneliness,

Loss of a loved one ,

Mourning,

Change,

work ways:

Works with adults,

Patient age:

18+

Practice:

19 years

Languages:

Polish,
Price list

| | |
| --- | --- |
| - Initial visit / interview 50min | 150,00 zł |
| - Basic visit 1h | 150,00 zł |
| - Visit on Sundays and holidays (video) 1h | 200,00 zł |
| - Abonament (wideo) 50min | |
Click a free slot in the calendar to book a consultation
2023
Monday

Mon




20 mar

Tuesday

Tue




21 mar

Wednesday

Wed




22 mar

Thursday

Thu




23 mar

Friday

Fri




24 mar

Saturday

Sat




25 mar

Sunday

Sun




26 mar
There isn't any free slot in that week
Free cancellation or change of reservation 24h before the visit
Qualifications and experience
Qualifications:
dr nauk medycznych
mgr psychologii
psycholog transportu
arteterapeuta
School:
2021 Uniwersytet Medyczny (Wydział Lekarski)
2004 Uniwersytet Łódzki
2020 Społeczna Akademia Nauk
2006 Polski Instytut Ericksonowski
2008 Akademia Pracy z Procesem
2016 Towarzystwo Hipnozy Terapeutycznej i Badań nad Hipnozą
About me
About me (PL):
Moja przygoda z psychologią zaczęła się dawno temu. Od zawsze lubiłam analizować, zastanawiać się nad motywami ludzkich zachowań, obserwować i … bujać w obłokach. Już jako dziecko codziennie przed snem snułam w głowie nową opowieść (oczywiście z happy endem), w której to ja byłam główną bohaterką, uwikłaną w różne perypetie. Lata mijały, a moje zainteresowanie niezgłębionymi tajemnicami psychiki i mocą wyobraźni nie malały. Tak też zostałam psychologiem.
W swoim dotychczasowym rozwoju zawodowym przeszłam długą drogę, czasem prostą i przyjemną, niekiedy wyboistą, ale nigdy nudną. Ciągle poszukuję optymalnych rozwiązań zastosowania psychologii w codziennym życiu i pracy terapeutycznej – poprzez połączenie wiedzy akademickiej, doświadczenia, ale także dorobku współczesnej psychoterapii.
Jestem zwolenniczką podejścia integracyjnego, które łączy w sobie różne nurty i techniki pracy terapeutycznej. Obecnie szczególnie bliska jest mi terapia ACT, której główne przesłanie brzmi: zaakceptuj to, na co nie masz wpływu, angażuj się w zachowania, które poprawią jakość Twojego życia. Zapraszam wszystkie osoby, które chciałyby poprawić swoje funkcjonowanie, doświadczają rozmaitych trudności życiowych, bądź po prostu poszukują niestandardowych rozwiązań w zakresie rozwoju osobistego, zwiększenia kreatywności i zdolności twórczych. Nieważne, ile masz lat, na zmianę nigdy nie jest za późno! Moja najstarsza Klientka miała 104 lata! :-)
A zatem ... Przyszedł czas na Twoją historię. Co jest dla Ciebie najważniejsze, czego pragniesz? Co powoduje, że się uśmiechasz?
Serdecznie zapraszam do kontaktu.
Ask a question
If you would like to ask any question dr n. med Monika Ponichtera-Kasprzykowska, type your message and email in form below. Our specialist will answer your questions as soon as possible.
We will send a reply on your email.