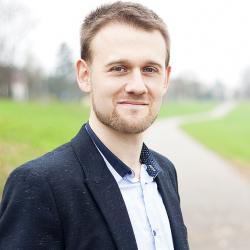 mgr Michał Stolarczyk
Book consultation
Psychologist,
Coach,
for Santander Bank Polska,
Support package,
Mentor,
Business psychologist,
Career counselor,
Trainer,
Crisis coach,
Life Coach,
Psychologist describe

Work methods:

Cognitive-behavioral therapy,

Terapia skoncentrowana na rozwiązaniach,

Cognitive therapy,

Other,

Help Areas:

Self-presentation,

ACoA Syndrom,

FOMO (fear of missing out),

Communication competence,

Business communication,

Communication in life,

Personal brand,

Mobbing,

Motivation,

Shyness,

Low self-esteem,

Personality,

Workaholism,

Leadership,

Employer Branding,

Personal development,

Staff development,

Self-realization,

Loneliness,

Decrease in performance and immunity,

Strata bliskiej osoby,

Stress,

Nicotine addiction,

Profile brand,

Burnout,

Career management,

Sanity,

Change,

work ways:

Pracuje z młodzieżą,

Pracuje z rodzinami,

Pracuje z dorosłymi,

Pracuje z parami,

Patient age:

15+

Practice:

16 lat

Languages:

Polish, English,
Price list

| | |
| --- | --- |
| - Initial visit / interview 2h | 195,00 zł |
| - Basic visit 1.5h | 155,00 zł |
| - Basic visit 1h | 110,00 zł |
| - Support (video) 0.5h | |
| - Pakiet (chat) 0.5h | |
| - Video dla Santander Bank Polska 0.5h | |
| - Chat dla Santander Bank Polska 0.5h | |
| - Support (video) 50min | |
| - Basic visit 0.5h | 65,00 zł |
| - Chat consultation 1h | 105,00 zł |
| - Chat consultation 0.5h | 60,00 zł |
Click a free slot in the calendar to book a consultation
2022
Monday

Mon




24 jan

Tuesday

Tue




25 jan

Wednesday

Wed




26 jan

Thursday

Thu




27 jan

Friday

Fri




28 jan

Saturday

Sat




29 jan

Sunday

Sun




30 jan
There isn't any free slot in that week
Free cancellation or change of reservation 48h before the visit
Qualifications and experience
Qualifications:
Psycholog
Konsultant kariery
Coach
Trener biznesu
Praktyk BeyondNLP
Praktyk Racjonalnej Terapii Zachowania
School:
2008 Uniwersytet Jagielloński - Psychologia Stosowana
2009 Akademia Trenerów Biznesu LAB
2010 Szkoła Profesjonalnego Coachingu
2014 Uniwersytet Jagielloński - Psychologia Transportu
2015 Kurs Projektanta Kariery
About me
About me (PL):
Nazywam się Michał Stolarczyk i jestem psychologiem, konsultantem kariery, coachem i trenerem kompetencji psychospołecznych.
Pomogę Ci jeśli:
- potrzebujesz wsparcia w zakresie Twojego życia zawodowego,
- potrzebujesz poradzić sobie z nadmiernym stresem,
- chcesz lepiej dogadywać się z ludźmi w Twoim otoczeniu,
- uważasz, że masz problem w organizacji swojego czasu, wyboru priorytetów,
- potrzebujesz poprawić swoje umiejętności międzyludzkie,
- rozważasz założenie własnej firmy i potrzebujesz wsparcia, porady, pomocy w opracowaniu strategii.
A teraz pozwól, że się przedstawię :)
Mam ponad 16-letnim doświadczenie zawodowe. Zajmowałem się głównie tzw. "miękkim" HRem oraz edukacją (w tym zdalną) oraz rozwojem ludzi (szkolenia, coaching, rekrutacja, diagnoza kompetencji), mam też praktykę w pracy związanej z zarządzaniem projektami oraz sprzedażą i obsługą klienta. Prowadziłem również zajęcia na studiach podyplomowych.
Przeprowadziłem ponad 2 600 godzin szkoleń i warsztatów z zakresu kompetencji psychologicznych, jak też ponad 500
godzin spotkań indywidualnych w charakterze coacha i konsultanta! Moi klienci i współpracownicy, jak sami twierdzą, cenią mnie za spokój i opanowanie, umiejętność słuchania i wspierania oraz wnikliwy umysł. Dodają, że jestem cierpliwy i dyskretny, bardzo angażuję się we współpracę, jak też cechuje mnie profesjonalizm, dyskrecja i terminowość.
Ciągle pracuję nad rozwojem swoich kompetencji osobistych i zawodowych: ukończyłem szkołę coachingu, kurs trenerski, liczne szkolenia z obszaru wspierania rozwoju zawodowego, jestem klientem coachingowym, odbyłem własną psychoterapię, korzystam z superwizji i interwizji.
Jeśli chcesz zobaczyć i usłyszeć wywiad ze mną - zapraszam :)
https://www.youtube.com/watch?v=mW0We17E5ZQ&feature=youtu.be
Opinie
Client
Opinion
Rate

Zdzisław Twardowski

Opinion:

Była to wizyta której się obawiałem, ale po krótkiej rozmowie zauważyłem, że jest to ta osoba , której chcę powierzyć swoje problemy. SUPER!!!!!

Zdzisław Twardowski

Zdzisław Twardowski

Opinion:

Każde spotkanie z panem Michałem,jest dla mnie czymś wyjątkowym i bardzo wyczekiwanym. Dodaje dużej pewności, oraz wiary w siebie. I jeżeli to tyko będzie możliwe,to bardzo chciałbym kontynuować nasze spotkania, przynajmniej raz w miesiącu.

Michał Durski

Tomasz Balicki

Opinion:

Bardzo dobra rozmowa. Trakuję to, jak odbicie mojej refleksji na mnie samego.
Ask a question
If you would like to ask any question mgr Michał Stolarczyk, type your message and email in form below. Our specialist will answer your questions as soon as possible.
We will send a reply on your email.