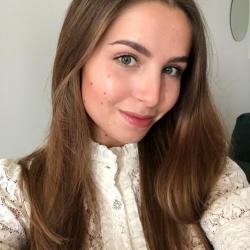 mgr Martyna Naumiuk
Book consultation
Psychologist describe

Work methods:

Other,

Help Areas:

Aggression,

Affective disorder,

Depression,

Phobias,

Communication competence,

Communication in life,

Anxiety - neurosis,

Mania,

Mobbing,

Motivation,

Suicidal thoughts,

Obsessions,

Shyness,

Low self-esteem,

Personality,

Educational problems with children,

Problems with memory,

Violence,

Divorce,

Personal development,

Self-mutilation,

Loneliness,

Schizophrenia,

Strata bliskiej osoby,

Stress,

Addiction,

Burnout,

Eating disorders,

Mental disorders,

Sleep disturbance,

Mourning,

Betrayal,

Sanity,

Post-traumatic stress disorder,

work ways:

Pracuje z młodzieżą,

Pracuje z dorosłymi,

Pracuje z dziećmi,

Patient age:

3+

Practice:

2 lat

Languages:

Polish,
Price list

| | |
| --- | --- |
| - Initial visit / interview 1h | 120,00 zł |
| - Chat consultation 1h | 120,00 zł |
| - Video visit (sessions ones a week) 1h | 120,00 zł |
| - Wizyta w niedzielę i święta (wideo) 1h | 150,00 zł |
| - Wizyta w niedzielę i święta (wideo) 0.5h | 100,00 zł |
| - Initial visit / interview 0.5h | 80,00 zł |
Click a free slot in the calendar to book a consultation
2022
Monday

Mon




24 jan

Tuesday

Tue




25 jan

Wednesday

Wed




26 jan

Thursday

Thu




27 jan

Friday

Fri




28 jan

Saturday

Sat




29 jan

Sunday

Sun




30 jan
There isn't any free slot in that week
Free cancellation or change of reservation 2h before the visit
Qualifications and experience
School:
2020 Uniwersytet Zielonogórski
About me
About me (PL):
Z wykształcenia i pasji- jestem psychologiem. Skończyłam studia ze specjalnością kliniczną. Pomaganie innym sprawia mi przyjemność, lubię słuchać i rozmawiać. Swoje psychologiczne praktyki studenckie odbywałam w Hospicjum w Zielonej Górze, co umocniło mnie w przekonaniu, że dzięki empatii, zainteresowaniu drugą osobą i często- z pozoru zwykłą rozmową- można zdziałać wiele.
Sądzę, że pomoc psychologiczna jest w pewnym sensie formą nauki. Nauki samego siebie, poszerzania perspektyw i nabywania większej wrażliwości na otoczenie. Myślę też, że w tym przypadku to nie tylko klient zdobywa nowe umiejętności i lepiej poznaje siebie- to samo może dotyczyć psychologa. W pracy ważna dla mnie jest uważność i otwartość na drugiego człowieka.
Chętnie zbuduję z Państwem relację opartą na poczuciu bezpieczeństwa, szacunku i zaufaniu, co pomoże nam we współpracy.
Postaram się pomóc zarówno w kwestii problemów dnia codziennego, związanych z problematyczną komunikacją czy konfliktami z najbliższymi, ale także skupię się na trudnościach, które w danej chwili ciężko Państwu samemu nazwać- razem postaramy się znaleźć odpowiedź na nurtujące pytania.
Zapraszam :)
Opinie
Client
Opinion
Rate

Magdalena Turek

Opinion:

Bardzo pozytywne podejście i chęć pomocy ! Napewno jeszcze umówimy się na konsultacje
Ask a question
If you would like to ask any question mgr Martyna Naumiuk, type your message and email in form below. Our specialist will answer your questions as soon as possible.
We will send a reply on your email.