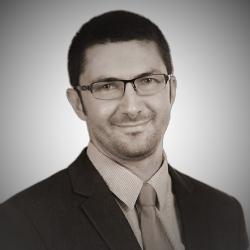 dr Marek Olejniczak
Book consultation
Psychologist describe

Work methods:

Other,

Help Areas:

Communication in life,

Personal brand,

Motivation,

Problems of parish,

Divorce,

Personal development,

Staff development,

Self-realization,

Loneliness,

work ways:

Pracuje z dorosłymi,

Pracuje z parami,

Patient age:

18+

Practice:

3 lat

Languages:

Polish,
Price list

| | |
| --- | --- |
| - Basic visit 1h | 150,00 zł |
| - Initial visit / interview 1h | 75,00 zł |
| - Consultation for parish 1.5h | 220,00 zł |
Click a free slot in the calendar to book a consultation
2022
Monday

Mon




24 jan

Tuesday

Tue




25 jan

Wednesday

Wed




26 jan

Thursday

Thu




27 jan

Friday

Fri




28 jan

Saturday

Sat




29 jan

Sunday

Sun




30 jan
There isn't any free slot in that week
Free cancellation or change of reservation 24h before the visit
Qualifications and experience
Qualifications:
dr n. hum. w zakresie filozofii
Life Coach
Coach
School:
2005 Uniwersytet śląski
2020 New Skills Academy
2019 Szkoła Coachów Meritum
Company city
Pruszcz Gdański - pomorskie
About me
About me (PL):
Coaching partnerski to niezwykły czas dla dwojga osób jako pary – razem przyglądacie się przyszłości Waszego związku i planujecie jego dalszy rozwój. To może być dla Was niezwykłe pozytywne przeżycie! Zapewniam – pierwsza sesja jest całkowicie bezpłatna i bez żadnych dalszych zobowiązań!
- Planujecie wspólną przyszłość, ale nie wiecie, jak powiedzieć kochanej osobie o swoich pragnieniach, marzeniach i tęsknotach?
- Chcecie być razem, kochacie się, ale jakoś nie potraficie wspólnie ustalić planów na przyszłość?
- Kochacie się, pragniecie być razem, ale coś zaczęło w związku "zgrzytać"?
- Między Wami było tak dobrze, aż tu nagle okazało się, że Ty naprawdę jesteś z Marsa, a ona naprawdę jest z Wenus! I co dalej?
- A może tak dobrze się ze sobą dogadujecie, że… czujecie się już trochę sobą zmęczeni?
Coaching dla par to silny bodziec motywujący do wspólnego rozwoju i umocnienia związku. A jeśli Twój partner lub partnerka nie chcą przyjść, zgłoś się na bezpłatną sesję indywidualną.
Daj szansę sobie i swojemu związkowi!
Oprócz coachingu partnerskiego zajmuję się również indywidualnym life coachingiem, czyli osobistym rozwojem dorosłego człowieka. Proponowany przeze mnie coaching to doskonałe rozwiązanie dla ludzi pragnących lepszej, wydajniejszej pracy i szczęśliwszego życia. Jeśli nie wiesz, w którą stronę ruszyć z miejsca, przytłacza Cię rzeczywistość albo masz poczucie, że dopadło Cię wypalenie zawodowe - mogę Ci pomóc. Całościowe spojrzenie na swoje życie i przewartościowanie (lub dowartościowanie) swoich priorytetów może się tutaj okazać naprawdę zbawienne. Jeśli więc przeżywasz kryzys lub utknąłeś albo utknęłaś w martwym punkcie, nie zwlekaj z nawiązaniem kontaktu!
Imago - coaching. Rozwijaj się i dojrzewaj!
Ask a question
If you would like to ask any question dr Marek Olejniczak, type your message and email in form below. Our specialist will answer your questions as soon as possible.
We will send a reply on your email.