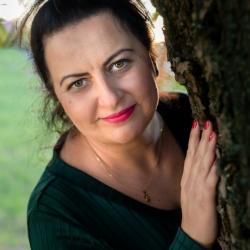 mgr Magdalena Minkina
Book consultation
Psychotherapist,
for Santander Bank Polska,
Therapist,
Trainer,
Psychologist describe

Work methods:

Cognitive-behavioral therapy,

Integrative therapy,

Psychodynamic therapy,

Gestalt therapy,

Help Areas:

Aggression,

Insomnia,

Depression,

Adolescence,

Anxiety - neurosis,

Motivation,

Suicidal thoughts,

Overweight and obesity,

Shyness,

Low self-esteem,

Violence,

Personal development,

Staff development,

Self-mutilation,

Self-realization,

Loneliness,

Strata bliskiej osoby,

Trauma,

Burnout,

Sleep disturbance,

Mourning,

Betrayal,

Change,

Patient age:

15+

Practice:

3 lat

Languages:

Polish,
Price list

| | |
| --- | --- |
| - Initial visit / interview 50min | 120,00 zł |
| - Basic visit 50min | 120,00 zł |
| - Support (video) 0.5h | |
Click a free slot in the calendar to book a consultation
2021
Monday

Mon




10 may

Tuesday

Tue




11 may

Wednesday

Wed




12 may

Thursday

Thu




13 may

Friday

Fri




14 may

Saturday

Sat




15 may

Sunday

Sun




16 may
There isn't any free slot in that week
Qualifications and experience
Qualifications:
Psychoterapeuta
Lider Bibliodramy
Trener
Ekonomista
School:
w trakcie Papieski Wydział Teologiczny we Wrocławiu
2019 Polskie Towarzystwo Bibliodramatyczne
2018 "Szkoła Trenerów" we Wrocławiu
2002 Uniwersytet Ekonomiczny we Wrocławiu
Company city
Dzierżoniów - dolnośląskie
About me
About me (PL):
Jeśli zmagasz się depresją, lękami, stratą, kryzysem, stoisz na rozdrożu i nie wiesz w którą stronę pójść, poszukujesz sensu swojego życia, satysfakcji z życia, nie uciekaj, nie zagłuszaj tego głosu, swego bólu, daj sobie szansę, pozwól sobie na towarzystwo drugiej osoby, która jest otwarta by być z Tobą w tym czasie.
Prowadzę psychoterapię indywidualnie z dorosłymi osobami.
Pracuję również z młodzieżą (pomiędzy 15 a 18 rokiem życia, tylko za pisemną zgodą rodziców). Pierwsza konsultacja jest z Rodzicami / Rodzicem. Kolejne spotkania są z Nastolatkiem.
Wykształcenie zdobyłam na 4 letnich Studiach Podyplomowych w nurcie integratywnym w ujęciu chrześcijańskim na Papieskim Wydziale Teologicznym we Wrocławiu, szkoleniu trenerskim w ramach VI edycji projektu "Szkoła Trenerów" we Wrocławiu, na Uniwersytecie Ekonomicznym we Wrocławiu Wydział w Jeleniej Górze (mgr ekonomii, specjalizacja zarządzanie miastem).
Prowadzę również warsztaty grupowe m.in. trening inteligencji emocjonalnej, warsztaty motywacyjne dla osób poszukujących lub chcących zmienić swoją ścieżkę zawodową czy warsztat dla rodziców chcących poprawić relacje ze swoimi dziećmi.
Publikuję artykuły o tematyce psychologicznej na Avigon.pl .
Swoją pracę poddaję regularnie superwizji.
Opinie
Client
Opinion
Rate

Dawid Skaza

Opinion:

Konsultacja bardzo mi pomogła, pozwoliła nakreślić nowe ścieżki prowadzące do rozwiązania mojego problemu i otworzyła wiele klapek, żeby móc ten problem lepiej zrozumieć.

Magdalena Turek

Opinion:

Wysłucha ! Nie ocenia. To Nasza pierwsza konsultacja , ale mam dobre przeczucie, ze pomoże mi przejść przez ciężkie dla mnie chwile :) Polecam
Ask a question
If you would like to ask any question mgr Magdalena Minkina, type your message and email in form below. Our specialist will answer your questions as soon as possible.
We will send a reply on your email.