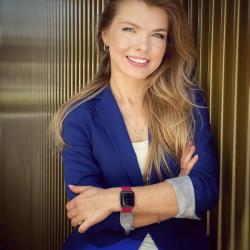 mgr Klaudia Steckiewicz-Langer
Book consultation
Psychologist,
Psychotherapist,
Clinical psychologist,
Psychologist describe

Work methods:

Cognitive-behavioral therapy,

Help Areas:

ADHD,

Anorexia,

Bulimia,

Affective disorder,

Alcoholic disease,

ACoA Syndrom,

Depression,

Adolescence,

Phobias,

Communication in life,

Motivation,

Overweight and obesity,

Obsessions,

Shyness,

Personality,

Borderline personality disorder,

Workaholism,

Problems of parish,

Divorce,

Personal development,

Self-mutilation,

Self-realization,

Loneliness,

Loss of a loved one ,

Stress,

Trauma,

Addiction,

Nicotine addiction,

Codependency,

Burnout,

Eating disorders,

Mental disorders,

Compulsive buying disorder,

Mourning,

Betrayal,

Sanity,

Panic syndrome,

Post-traumatic stress disorder,

Change,

work ways:

Works with youth,

Works with adults,

Works with kids,

Works with couples,

Patient age:

15+

Practice:

10 years

Languages:

Polish, English,
Price list

| | |
| --- | --- |
| - Initial visit / interview 50min | 150,00 zł |
| - Basic visit 50min | 150,00 zł |
| - Consultation for couples 1h | 190,00 zł |
| - Wizyta w niedzielę i święta (wideo) 50min | 200,00 zł |
Click a free slot in the calendar to book a consultation
2022
Monday

Mon




16 may

Tuesday

Tue




17 may

Wednesday

Wed




18 may

Thursday

Thu




19 may

Friday

Fri




20 may

Saturday

Sat




21 may

Sunday

Sun




22 may
There isn't any free slot in that week
Free cancellation or change of reservation 24h before the visit
Qualifications and experience
Qualifications:
psycholog kliniczny
psychoterapeuta
School:
2013 SWPS
Akademia Motywacji i Edukacji
Company city
Warszawa - mazowieckie
About me
About me (PL):
Nazywam się Klaudia Steckiewicz-Langer. Jestem psychologiem klinicznym oraz psychoterapeutą w procesie certyfikacji. Ukończyłam wydział psychologii w Szkole Wyższej Psychologii Społecznej w Warszawie (obecnie Uniwersytet SWPS) ze specjalnością psychologia kliniczna. Obecnie jestem w trakcie szkolenia do uzyskania certyfikatu psychoterapeuty w Akademii Motywacji i Edukacji, ośrodku rekomendowanym i atestowanym przez Polskie Towarzystwo Terapii Poznawczej I Behawioralnej im. Prof. Zdzisława Bizonia, którego jestem członkiem. Dodatkowo posiadam uprawnienia pedagogiczne oraz ukończone studia na kierunku pedagogika przedszkolna i wczesnoszkolna.
Swoje ponad 10 letnie doświadczenie zdobywałam m.in. w Centrum Medycznym MKK Trimed na oddziale dziennym oraz w Bródnowskim Szpitalu Psychiatrycznym.
Pracuję indywidualnie oraz grupowo z osobami dorosłymi, młodzieżą oraz dziećmi, zgodnie z zasadami Kodeksu Etycznego Polskiego Towarzystwa Terapii Poznawczej i Behawioralnej oraz Kodeksu Etyczno-Zawodowego Psychologa. Swoją pracę poddaję regularnej superwizji.
Zapraszam wszystkich, którzy chcieliby przyjrzeć się sobie, swoim potrzebom i trudnościom. Pracuję z osobami, które mają trudności w obszarach takich jak m.in.: zaburzenia nastroju, zaburzenia osobowości, agresja, zaniżona samoocena, zaburzenia lękowe, zaburzenia zachowania, trudności w relacjach społecznych.
Wspieram także rodziców którzy mają wątpliwości dotyczące rozwoju ich dziecka, chcą skonsultować budzące niepokój zachowanie dziecka, pragną wesprzeć swoje dziecko w trudnościach społecznych, edukacyjnych lub sami przechodzą zmiany życiowe (rozwód, choroba, żałoba) i chcą by ich dziecko otrzymało wsparcie.
Ask a question
If you would like to ask any question mgr Klaudia Steckiewicz-Langer, type your message and email in form below. Our specialist will answer your questions as soon as possible.
We will send a reply on your email.