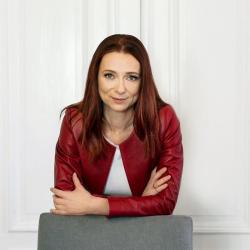 mgr Katarzyna Dolak-Mazurek
Book consultation
Coach,
Support package,
Pedagogue,
Speaker,
Trainer,
Crisis coach,
Life Coach,
Psychologist describe

Work methods:

Terapia skoncentrowana na rozwiązaniach,

Open Dialogue,

Other,

Help Areas:

Communication competence,

Business communication,

Communication in life,

Motivation,

Overweight and obesity,

Shyness,

Low self-esteem,

Divorce,

Personal development,

Staff development,

Loneliness,

Strata bliskiej osoby,

Stress,

Burnout,

Compulsive buying disorder,

Mourning,

Betrayal,

Sanity,

Change,

work ways:

Pracuje z dorosłymi,

Patient age:

25+

Practice:

10 lat

Languages:

Polish,
Price list

| | |
| --- | --- |
| - Basic visit 1.5h | 250,00 zł |
| - Initial visit / interview 1h | 150,00 zł |
| - Support (video) 0.5h | |
| - Pakiet (chat) 0.5h | |
Click a free slot in the calendar to book a consultation
2022
Monday

Mon




24 jan

Tuesday

Tue




25 jan

Wednesday

Wed




26 jan

Thursday

Thu




27 jan

Friday

Fri




28 jan

Saturday

Sat




29 jan

Sunday

Sun




30 jan
There isn't any free slot in that week
Free cancellation or change of reservation 24h before the visit
Qualifications and experience
Qualifications:
Coach Kryzysowy
Akademia Trenera
Certyfikowany kurs Coaching Fundamentals Certificate
Akademia Coachingu
School:
2017 Instytut Pozytywnej Terapii Kryzysu
2014 Wyższa Szkoła Bankowa
2012 Noble Manhattan Coaching
2012 Wyższa Szkoła Bankowa
About me
About me (PL):
Pomagam ludziom zrozumieć miłość, aby umieć kochać siebie i innych. Jestem przekonana, że każdy człowiek ma szansę na sukces we wszystkich dziedzinach życia, wystarczy, że będzie obdarzał się miłością, a nie zauroczeniem.
Uczę jak kochać siebie i jak otwierać się na nowe znajomości, nowe relacje biznesowe oraz dbać o te, które już istnieją. Dlatego oferuję konkretny i sprawdzony przepis na szczęście w miłości, którego głównymi składnikami są wiara w siebie, odpowiednia wiedza i działanie.
Moja intuicja i talent do układania spraw między ludźmi poparta jest moim wieloletnim zawodowym doświadczeniem.
Jestem dyplomowanym Life Coachem, akredytowanym przez Nobel Manhattan Coaching (NMC) oraz Internatinal Instytute of Coaching & Mentoring (IIC&M), a także dyplomowanym Coachem Kryzysowym, akredytowanym przez Polskie Towarzystwo Coachingu Kryzysowego, jak również dyplomowanym trenerem i pedagogiem. Autorką książki Miłosne Prawo Jazdy. Prowadzę grupy wsparcia dla Fundacji Adra Poland.
Moją nieustającą inspiracją są klienci. Ich przemiany są nauką dla nich i dla mnie.
Ask a question
If you would like to ask any question mgr Katarzyna Dolak-Mazurek, type your message and email in form below. Our specialist will answer your questions as soon as possible.
We will send a reply on your email.