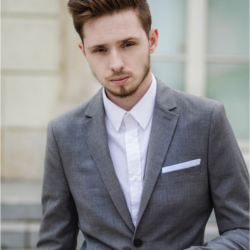 mgr Jakub Rataj
Book consultation
Psychologist,
Coach,
for Santander Bank Polska,
Mentor,
Trainer,
Psychologist describe

Work methods:

Other,

Help Areas:

Depression,

Phobias,

Anxiety - neurosis,

Motivation,

Low self-esteem,

Personality,

Problems of parish,

Divorce,

Self-realization,

Loneliness,

Stress,

Betrayal,

Sanity,

work ways:

Pracuje z młodzieżą,

Pracuje z dorosłymi,

Pracuje z parami,

Patient age:

18+

Practice:

3 lat

Languages:

Polish,
Price list

| | |
| --- | --- |
| - Basic visit 1h | 160,00 zł |
| - Initial visit / interview 1h | 200,00 zł |
Click a free slot in the calendar to book a consultation
2022
Monday

Mon




24 jan

Tuesday

Tue




25 jan

Wednesday

Wed




26 jan

Thursday

Thu




27 jan

Friday

Fri




28 jan

Saturday

Sat




29 jan

Sunday

Sun




30 jan
There isn't any free slot in that week
Free cancellation or change of reservation 24h before the visit
Qualifications and experience
Qualifications:
Psychologia
Szkoła Coachingu
School:
2019 Uniwersytet Warszawski
2019 Grupa SET
Company city
Warszawa - mazowieckie
About me
About me (PL):
Jestem psychologiem i coachem.
W swojej pracy skupiam się przede wszystkim na dopasowaniu odpowiedniej formy pomocy do trudności, problemów oraz sytuacji życiowej. Razem z Klientem sprawdzam czego potrzebuje i w tym kierunku podążamy. Pracuję z osobami niezdecydowanymi, potrzebującymi wsparcia w różnych okresach życia, doświadczającymi zagubienia, przemocy, kryzysów emocjonalnych i osobistych, a także takimi którzy potrzebują wysłuchania i spokojnej rozmowy.
Pracujemy nad: rozpoznawaniem, rozumieniem i zarządzaniem swoimi emocjami, radzeniem sobie z lękiem i napięciem, zachowaniem równowagi emocjonalnej i psychicznej, odzyskaniem poczucia sprawczości, budowaniem lepszych relacji z bliskimi, poprawą umiejętności komunikacyjnych, uzyskaniem komfortu psychicznego, budowaniem pewności siebie, poprawą efektywności zawodowej, rozumieniem swoich motywacji i zachowań.
Coachingowo wspieram w odkrywaniu talentów, wzmacnianiu kompetencji, budowaniu poczucia własnej wartości. Pracuje nad obszarami sprawiającymi trudności w życiu osobistym i zawodowym, które będą miały wpływ na osiągany cel, z którym dana osoba przychodzi.
Praca psychologiczna daje mi niesamowitą satysfakcję. Zauważanie postępów, zmian jest motywujące i sprawiające radość. Nic nie jest tak pouczające jak kontakt z ludźmi - dlatego zdecydowałem się na tą drogę. Każda osoba jest inna i to sprawia, że w pracy nie mogę się nudzić, a to jest coś co bardzo cenię.
Ask a question
If you would like to ask any question mgr Jakub Rataj, type your message and email in form below. Our specialist will answer your questions as soon as possible.
We will send a reply on your email.