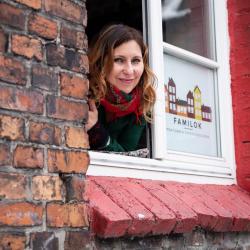 mgr Dominika Madaj-Solberg
Book consultation
Psychologist,
Support package,
Psychotraumatolog,
Psychologist describe

Work methods:

EMDR,

Systemic therapy,

Terapia par,

Existential therapy,

Help Areas:

Divorce,

Loneliness,

Loss of a loved one ,

Stress,

Trauma,

Mental disorders,

Mourning,

Post-traumatic stress disorder,

Change,

work ways:

Works with adults,

Works with youth,

Works with families,

Works with couples,

Patient age:

15+

Practice:

2 years

Languages:

Norwegian, Polish,
Price list

| | |
| --- | --- |
| - Initial visit / interview 0.5h | 100,00 zł |
| - Basic visit 1h | 200,00 zł |
| - Sesja z ustawieniami 1h | 400,00 zł |
| - Consultation for couples 1h | 300,00 zł |
| - Psychotraumatological consultation 1h | 270,00 zł |
| - Support (video) 50min | |
Click a free slot in the calendar to book a consultation
2022
Monday

Mon




04 jul

Tuesday

Tue




05 jul

Wednesday

Wed




06 jul

Thursday

Thu




07 jul

Friday

Fri




08 jul

Saturday

Sat




09 jul

Sunday

Sun




10 jul
There isn't any free slot in that week
Free cancellation or change of reservation 15 min. before the visit
Qualifications and experience
Qualifications:
psychotramatolog
godkjenning av utdannelse som psykolog
psycholog
kurs i norsk språk og kultur for fremmedspråklige studenter, trinn 3 ( karakter 2,8)
godkjenning av videreutdanning i spesialpedagogikk
nauczyciel wieloprofilowego usprawniania
School:
2021 SWPS Uniwersytet Humaniastycznospełeczny
2020 Universitet i Bergen
2019 SWPS Uniwersytet Humanistycznospołeczny
2007 Universitet i Oslo, Det Utdanningsvitenskapelige Fakultet
1996 Universitetet i Oslo
1989-1991 Wyższa Szkoła Pedagogiki Specjalnej w Warszawie
Company city
Katowice - śląskie
About me
About me (ENG):
Jeg er sertifisert psykolog, psykotraumatolog fokusert i sitt arbeid på mennesker som opplever en livskrise og dens langsiktige konsekvenser- traumatisk stress, postraumatisk stress (PTS), posttraumatisk stresslidelse (PTSD). Jeg tar videreutdanning innen Psykotraumatologi.
I flere år har jeg jobbet med mennesker fra forskjellige risikogrupper, utsatt for ekskludering- barn, ungdommer, voksne med utviklingshemming, mennesker med psykiske lidelser, familier med spesielle behov. Jeg har vært yrkes engasjert i flere behandlingssenter i Polen og Norge of fortsatt arbeider på en av sentrene- avdeling psykisk helse i Bergen. Jeg utfører behandling på polsk og norsk.
Jeg er særlig opptatt av faktorer som fremmer posttraumatisk vekst og utvikler klientens egne ressurser for å oppnå resilience (motstandsdyktighet).
Jeg bruker familiekonstellasjoner og psykosomatiske teknikker- pusteøvelser, kroppsøvelser, avspenningsteknikker.
Mine vitenskaplige og kliniske interesser er: generasjons trauma, psykogenealogi, innvandring og re-innvandrings dynamikk, andre generasjons innvandrere og deres identitet, dynamikk i flerkulturell familie, "Janus- ansiktet" fenomenet hos mennesker som har opplevd trauma, posstraumatisk vekst og fortsatt opplever dyp sorg selv om de klarer å fungere meget effektivt i hverdagen sin, er særlig interessant for meg.
Opinie
Client
Opinion
Rate

Ksymena

Opinion:

Pani Dominika pomogła mi w zrozumieniu ważnych dla mnie kwestii , bardzo ciepła osoba , Polecam

Aneta Rogalska

Opinion:

Z wdzięcznością...Dziękuję Pani Dominiko❣❣❣

Anonymous

Opinion:

Dopiero zaczynam, ale wchodzę w to

Anonymous

Opinion:

Zaczynam terapię i chcę ją kontynuować

Anonymous

Opinion:

Profesjonalna, cierpliwie tłumacząca pani Psycholog

Anonymous

Opinion:

Pełen profesjonalizm i duża empatia do drugiego człowieka - dziękuję pani Dominiko :)

Anonymous

Opinion:

Po pierwszym, wstępnym spotkaniu, zdecydowałam sie podjąć terapię u Pani mgr

Anonymous

Anonymous

Opinion:

Jak zawsze, dobra pomoc, szerokie spojrzenie na sprawę.

Anonymous

Martyna Brodowska

Opinion:

Bardzo dobra, budujaca rozmowa. Dobra komunikacja. Będę kontynuowac.

Anonymous

Anonymous

Opinion:

Serdecznie polecam tą Panią , wie co robi ..

Karol Paciorek

Opinion:

Bardzo kompetentna terapeutka , czuje pole jest bardzo uważna , bardzo miło się rozmawia ... polecam , naprawdę warto..

Anna Plinta

Opinion:

Bardzo konkretne doradztwo, zrozumienie ,spokoj,polecam kazdemu kto chce odnalezc siebie

Anonymous

Opinion:

profesjonalizm, spokój, mądrość, polecam

Anonymous

Anonymous

Anonymous

Anonymous

Małgorzata Wagner

Opinion:

Polecam- dobry specjalista

Anonymous

Anonymous

Anonymous

Anonymous

Anonymous

Anonymous
Ask a question
If you would like to ask any question mgr Dominika Madaj-Solberg, type your message and email in form below. Our specialist will answer your questions as soon as possible.
We will send a reply on your email.