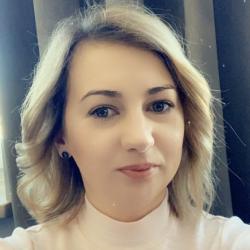 mgr Dagmara Glapa
Book consultation
Psychologist,
Psychotherapist,
Therapist,
Child psychologist,
Psychologist describe

Work methods:

Behavioral therapy,

Terapia skoncentrowana na rozwiązaniach,

Interpersonal therapy,

Cognitive therapy,

Cognitive-behavioral therapy,

Help Areas:

ADHD,

Adoption,

Aggression,

Anorexia,

Autism,

Insomnia,

Bulimia,

Affective disorder,

Cancers,

ACoA Syndrom,

Dementia,

Depression,

Adolescence,

Symptoms of the menopause period,

Phobias,

FOMO (fear of missing out),

Hypochondria,

Anorexia nervous,

Anxiety - neurosis,

Mania,

Migraine,

Mobbing,

Urinary incontinence,

Motivation,

Mutism,

Suicidal thoughts,

Overweight and obesity,

Obsessions,

Shyness,

Low self-esteem,

Personality,

Borderline personality disorder,

Dementia,

Workaholism,

Problems of parish,

Educational problems with children,

Problems with memory,

Violence,

Psychosis,

Divorce,

Self-mutilation,

Self-realization,

Loneliness,

Schizophrenia,

Stress,

Tics,

Addiction,

Nicotine addiction,

Eating disorders,

Mental disorders,

Sleep disturbance,

Compulsive buying disorder,

Voracity,

Mourning,

Betrayal,

Sanity,

Asperger's syndrome,

Panic syndrome,

Post-traumatic stress disorder,

work ways:

Works with youth,

Works with adults,

Works with kids,

Works with couples,

Patient age:

3+

Practice:

7 years

Languages:

Polish,
Price list

| | |
| --- | --- |
| - Basic visit 1h | 120,00 zł |
Click a free slot in the calendar to book a consultation
2022
Monday

Mon




15 aug

Tuesday

Tue




16 aug

Wednesday

Wed




17 aug

Thursday

Thu




18 aug

Friday

Fri




19 aug

Saturday

Sat




20 aug

Sunday

Sun




21 aug
There isn't any free slot in that week
Free cancellation or change of reservation 24h before the visit
Qualifications and experience
Qualifications:
Psycholog
Wczesne Wspomaganie Rozwoju Dziecka
Psychoterapia poznawczo - behawioralna
School:
2015 Uniwersytet SWPS
2018 Uniwersytet SWPS
2019 Uniwersytet SWPS
About me
About me (PL):
Dagmara Glapa
Psycholog, psycholog transportu, psychoterapeuta poznawczo-behawioralny
Nazywam się Dagmara Glapa i jestem psychologiem, psychologiem dziecięcym, psychologiem transportu oraz psychoterapeutą poznawczo-behawioralnym.
Pierwszym, poważnym krokiem na ścieżce zawodu psychologa było ukończenie przeze mnie Uniwersytetu SWPS we Wrocławiu, podczas której otrzymałam fachową wiedzę z zakresu psychologii oraz psychologii klinicznej. Ukończyłam również studia podyplomowe z zakresu psychologii transportu z elementami psychodiagnostyki.
Psychoterapia poznawczo-behawioralna i zaburzenia dzieci stały się nieodzownym elementem mojej pracy stąd też obecnie jestem w trakcie procesu certyfikacji na Uniwersytecie SWPS we Wrocławiu z akredytacją Polskiego Towarzystwa Psychiatrycznego, a także Polskiego Towarzystwa Terapii Poznawczej i Behawioralnej. W związku z poszerzeniem kwalifikacji jako psycholog dziecięcy podjęłam studia podyplomowe "Wczesne, wieloaspektowe wspomaganie rozwoju dziecka" na Uniwersytecie SWPS we Wrocławiu.
Swoje doświadczenie zdobywałam podczas pracy: z osobami niepełnosprawnymi w Warsztacie Terapii Zajęciowej "Tęcza" w Ostrowie Wielkopolskim, z osobami chorującymi psychicznie na Oddziale Psychiatrii Ogólnej oraz innych oddziałach szpitalnych w Ostrowie Wielkopolskim, a także w Poradni Zdrowia Psychicznego "Multimed" w Ostrowie Wielkopolski, z osobami zmagającymi się z wysokim poziomem stresu życiowego oraz współuzależnionych w Stowarzyszeniu "Joga Lotos", a od ponad dwóch lat prowadzę własną praktykę zawodową.
Staram się wychodzić na przeciw oczekiwaniom moich klientów, dlatego stale podnoszę swoje kompetencję i zwiększam wiedzę z zakresu psychologii oraz psychoterapii. Pracuję pod stałą superwizją i dbam o jak najlepszą jakość spotkań.
Ask a question
If you would like to ask any question mgr Dagmara Glapa, type your message and email in form below. Our specialist will answer your questions as soon as possible.
We will send a reply on your email.