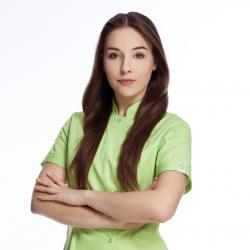 mgr Aleksandra Gąbka
Book consultation
for Santander Bank Polska,
Support package,
Dietician,
Psychodietician,
Psychologist describe

Work methods:

Other,

Help Areas:

Allergies,

Arthralgia,

Fat, water and circulation cellulite,

Kidney disease,

Skin diseases,

Thyroid disease,

Diabetes,

Ailments associated with digestion,

Hyperlipidaemia,

Insulin resistance,

Overweight and obesity,

Underweight,

Food intolerances,

Autoimmune disorders (e.g., Hashimoto's disease),

Gastrointestinal diseases,

Decrease in performance and immunity,

Hormonal disorders,

Polycystic ovary syndrome,

work ways:

Pracuje z rodzinami,

Pracuje z dorosłymi,

Pracuje z parami,

Patient age:

18+

Practice:

5 lat

Languages:

Spanish, Polish, English,
Price list

| | |
| --- | --- |
| - Initial visit / interview 1.5h | 120,00 zł |
| - Basic visit 0.5h | 60,00 zł |
| - Support (video) 0.5h | |
| - Pakiet (chat) 0.5h | |
| - Video dla Santander Bank Polska 0.5h | |
Click a free slot in the calendar to book a consultation
2022
Monday

Mon




24 jan

Tuesday

Tue




25 jan

Wednesday

Wed




26 jan

Thursday

Thu




27 jan

Friday

Fri




28 jan

Saturday

Sat




29 jan

Sunday

Sun




30 jan
There isn't any free slot in that week
Free cancellation or change of reservation 2h before the visit
Qualifications and experience
School:
2016 Uniwersytet Medyczny im. Piastów Śląskich we Wrocławiu
2019 Śląski Uniwersytet Medyczny w Katowicach
Company city
Wrocław - dolnośląskie
About me
About me (PL):
Doświadczenie kliniczne w Przychodni Specjalistycznej przy Uniwersyteckim Szpitalu Klinicznym we Wrocławiu. Jestem absolwentką Uniwersytetu Medycznego im. Piastów Śląskich we Wrocławiu oraz Śląskiego Uniwersytetu Medycznego w Katowicach. Praktykę zawodową doskonaliłam również podczas stażu zagranicznego na Uniwersytecie św. Pawła w Madrycie. Obecnie doświadczenie zdobywa w Przychodni Specjalistycznej w Uniwersyteckim Szpitalu Klinicznym im. Jana Mikulicza-Radeckiego we Wrocławiu. Nieustannie aktualizuję swoją wiedzę i poszerza horyzonty bazując także na współczesnych badaniach klinicznych prowadzonych za granicą. Posiadam kwalifikacje, które pozwalają na ustalenie skutecznej dietoterapii w prewencji oraz przebiegu chorób przewlekłych, autoimmunologicznych oraz metabolicznych. Systematycznie poszerzam zakres swojej wiedzy na szkoleniach, kursach i konferencjach. Śledzę doniesienia oraz studium przypadku na Functional Medicine University. Obecnie rozwijam także metodykę pracy w zakresie psychodietetyki. Prowadzę poradnię oraz szkolenia dla firm w zakresie wellbeingu w języku angielskim i hiszpańskim. Zajmuje się edukacją żywieniową dzieci i dorosłych. Współpraca z ze mną ma charakter holistyczny. Wyznaję zasadę, że wyznaczanie granicy między ciałem a umysłem jest niemożliwe. To co dzieje się w jednym – znajduje odbicie w drugim. Wychodzę z założenia, że zachowanie zdrowej psychiki i dobrego samopoczucia jest niemożliwe bez dobrze odżywionego ciała i na odwrót. Oba te elementy stanowią jeden układ. Wszystkiemu co robię towarzyszy pasja.
Ask a question
If you would like to ask any question mgr Aleksandra Gąbka, type your message and email in form below. Our specialist will answer your questions as soon as possible.
We will send a reply on your email.