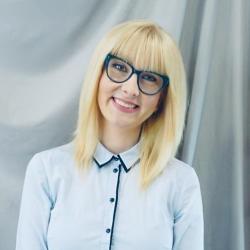 mgr Adrianna Napiórkowska-Babich
Book consultation
Psychologist,
Psychotherapist,
Coach,
Therapist,
Crisis intervention,
Business psychologist,
Child psychologist,
Adolescent Psychologist,
Sports psychologist,
Speaker,
Trainer,
Psychologist describe

Work methods:

Cognitive-behavioral therapy,

Integrative therapy,

Solution-focused therapy,

Psychosynthesis,

Other,

Help Areas:

Insomnia,

Depression,

Anxiety - neurosis,

Shyness,

Procrastination,

Stress,

ADHD,

Aggression,

Allergies,

Anorexia,

Assertiveness,

Self-presentation,

Arthralgia,

Bulimia,

Fat, water and circulation cellulite,

Kidney disease,

Skin diseases,

Thyroid disease,

Cardiovascular disease,

Adolescence,

Ailments associated with digestion,

Phobias,

FOMO (fear of missing out),

Hypochondria,

Communication competence,

Business communication,

Communication in life,

Social anxiety,

Personal brand,

Migraine,

Urinary incontinence,

Creative morphology,

Motivation,

Overweight and obesity,

Underweight,

Food intolerances,

Low self-esteem,

Personality,

Workaholism,

Educational problems with children,

Violence,

Divorce,

Employer Branding,

Personal development,

Staff development,

Self-mutilation,

Self-realization,

Loneliness,

Autoimmune disorders (e.g., Hashimoto's disease),

Gastrointestinal diseases,

Decrease in performance and immunity,

Loss of a loved one ,

Tics,

Toxic relationship,

Trauma,

Profile brand,

Burnout,

Bipolar affective disorder,

Emotional disorders,

Hormonal disorders,

Anxiety disorders,

Eating disorders,

Mental disorders,

Sleep disturbance,

Behavioural disorders,

Career management,

Betrayal,

Sanity,

Panic syndrome,

Polycystic ovary syndrome,

Post-traumatic stress disorder,

Change,

work ways:

Works with youth,

Works with families,

LGBT,

Works with adults,

Works with women,

Works with men,

Patient age:

15+

Practice:

9 years

Languages:

English, Polish,
Price list

| | |
| --- | --- |
| - Initial visit / interview 50min | 200,00 zł |
| - Basic visit 50min | 200,00 zł |
| - Text chat consultation 1h | 200,00 zł |
| - Visit on Sundays and holidays (video) 50min | 250,00 zł |
| - Online psychological counselling in English 50min | 250,00 zł |
Click a free slot in the calendar to book a consultation
2023
Monday

Mon




05 jun

Tuesday

Tue




06 jun

Wednesday

Wed




07 jun

Thursday

Thu




08 jun

Friday

Fri




09 jun

Saturday

Sat




10 jun

Sunday

Sun




11 jun
Free cancellation or change of reservation 24h before the visit
Qualifications and experience
Qualifications:
mgr psychologii stosowanej
psycholog sportu
sport psychologist
wokalista jazzowy
coaching sportowy
psycholog dzieci i młodzieży
psycholog myślenia twórczego
Diagnoza Stanford-Binet 5
instruktor Mindfulness dla dzieci i młodzieży
Terapia TSR
psycholog sportu II klasy
School:
2014 psychologia stosowana UJ
2016 UJ i AWF
2018 University of Thessaly, Greece
2017 Krakowska Szkoła Jazzu i Muzyki Rozrywkowej
2017 Instytut Mukoid
2021 Szpital Dziecięcy w Krakowie
2015 OTE Kangur
2020 Polskie Towarzystwo Psychologiczne
2020 Akademia Mindfulness
2022 Centrum Rozwiązań - Terapia Skoncentrowana Rozwiązaniach I i II poziom
2022 Polskie Towarzystwo Psychologiczne
Company city
Kraków - małopolskie
About me
About me (ENG):
I am a psychologist (applied psychology - Jagiellonian University) using Solution-Focused Brief Therapy (SFBT), a II class sports psychologist of the Polish Psychological Association and a certified Mindfulness instructor (Mindfulness Academy in Warsaw).
I use the knowledge and experience from the field of clinical psychology gained at St. Louis Regional Specialised Children's Hospital in Cracow; the Specialist Hospital dr. J. Babiński, the University Hospital in Krakow; the Specialist Hospital. L. Rydygiera in Krakow.
When working with clients, I focus not only on solving problems, but above all I look for and help develop strengths. Combining knowledge in the field of clinical psychology, solution-focused therapy, sports psychology and mindfulness, I care for the holistic development of the individual by working on coping with stress, the ability to concentrate, raising motivation, planning, managing emotions. I also teach how to find a balance between professional and private life. Working with the body is also a very important aspect for me. As a Mindfulness instructor and a sports dancer, I pay special attention to taking care of both the mental and physical spheres.
I care about professional development by participating in conferences and specialist training in Poland and abroad. In my free time, I train ballroom dancing and perform in musical and comedy performances.
I work with adults and teenagers (from 15 years of age) who want to better cope with:
crises,
anxiety,
depressed mood,
psychosomatic symptoms,
excessive stress,
sleep difficulties,
fatigue,
overwork,
professional burnout,
achieving goals,
organizing time,
developing good habits
Opinie
Client
Opinion
Rate

Anonymous

Opinion:

Jestem mamą dwójki dzieci (dwu- i czterolatek). Przy drugim dziecku nasiliły się u mnie lęki i ataki paniki. Szczególnie związane z powrotem do pracy (w teatrze). Pani Adrianna nauczyła mnie, że mam wpływ na to jak się czuję, że moje potrzeby są ważne. Zaczęłam stawiać granice, które wcześniej były przekraczane. Same rozmowy były luźne. Nie było "grzebania" na siłę w dzieciństwie tylko skupienie się na tym co jest teraz. Dodatkowo ,co jest dla mnie bardzo cenne, dostałam wskazówki jak radzić sobie ze tremą . Z całego serca polecam tę psycholożkę.

Anonymous

Opinion:

Jestem w procesie od pół roku. Od początku czułem się zaopiekowany. Pani Adrianna pomogła mi poradzić sobie z lękami i wypaleniem w pracy. Od jakiegoś czasu lepiej już śpię i mam z powrotem siły trenować (piłka nożna)

Anonymous

Opinion:

Profesjonalna pomoc. Gorąco polecam.

Anonymous

Anonymous

Opinion:

Pierwsze spotkanie. Ogólne wrażenie bardzo dobre.
Ask a question
If you would like to ask any question mgr Adrianna Napiórkowska-Babich , type your message and email in form below. Our specialist will answer your questions as soon as possible.
We will send a reply on your email.