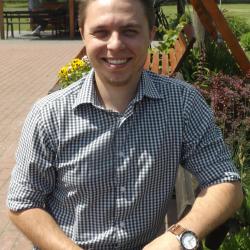 mgr Jakub Łobiński
Book consultation
Psychologist describe

Work methods:

Cognitive-behavioral therapy,

Other,

Help Areas:

Phobias,

Motivation,

Suicidal thoughts,

Low self-esteem,

Personality,

Problems of parish,

Self-mutilation,

Self-realization,

Stress,

Sleep disturbance,

Mourning,

Panic syndrome,

work ways:

Pracuje z dorosłymi,

Pracuje z parami,

Patient age:

18+

Practice:

3 lat

Languages:

Polish,
Price list

| | |
| --- | --- |
| - Basic visit 1h | 120,00 zł |
Click a free slot in the calendar to book a consultation
2021
Monday

Mon




20 sep

Tuesday

Tue




21 sep

Wednesday

Wed




22 sep

Thursday

Thu




23 sep

Friday

Fri




24 sep

Saturday

Sat




25 sep

Sunday

Sun




26 sep
There isn't any free slot in that week
Free cancellation or change of reservation 24h before the visit
Qualifications and experience
Qualifications:
Dyplom ukończenia jednolitych studiów magisterskich. Wydział Psychologii. Kierunek: Psychologia
School:
2017 Wyższa Szkoła Finansów i Zarządzania
Company city
Radzyń Podlaski - lubelskie
About me
About me (PL):
W pracy z pacjentem wykorzystuję elementy terapii poznawczo-behawioralnej.
Uważam, że zwiększenie poziomu samoświadomości prowadzi do rozwijania poczucia wpływu na własne życie i tym samym tworzenia lepszych strategii radzenia sobie z trudnościami.
Konsultacje mają formę rozmów prowadzących do:
– zdefiniowania problemu oraz ustalenia wstępnego planu działania
– zidentyfikowania prawdziwego źródła problemu, określenia czynników utrudniających drogę do jego rozwiązania
– znalezienia nowych sposobów radzenia sobie z trudnościami i stopniowego wprowadzania ich w życie
– wzmacniania w realizowanych zmianach.
Na konsultacje zapraszam osoby, które zmagają się z problemami typu:
– obniżony nastrój
– niskie poczucie własnej wartości
– stres
– zaburzenia snu
– brak motywacji, odczucie wewnętrznej pustki
– problemy z emocjami (agresja, wybuchy złości)
– stany lękowe
– fobie (społeczna, swoista – konkretny przedmiot, zwierzę lub czynność)
– niechciane myśli / negatywna mowa wewnętrzna / powracające problemy z przeszłości
Zajmuje się również pracą nad:
– problemami par i małżeństw
– pewnością siebie
– określeniem ścieżki zawodowej
– budowaniem relacji / kontaktach z innymi
– adaptacją zmian
– wypaleniem zawodowym
Obecnie współpracuję z trzema przychodniami oraz pracuję w dwóch ośrodkach: Dom Pomocy Społecznej oraz Środowiskowy Dom Samopomocy. Prowadzę szkolenia i mini wykłady z zakresu motywacji, pewności siebie oraz kontroli stresu.
Prowadzę również zajęcia w dwóch klubach seniora. Zajęcia dotyczą radzenia sobie ze stresem, kontrolowania emocji, asertywności, komunikacji oraz wielu innych tematów związanych z rozwojem umiejętności miękkich i rozwiązywaniem problemów. Prowadzę również zajęcia w szkołach, które dotyczą walki z nadwagą wśród dzieci. Zajęcia obejmują przekazywanie wiedzy z zakresu: motywacji, samodyscypliny oraz realizowania celów.
Ask a question
If you would like to ask any question mgr Jakub Łobiński, type your message and email in form below. Our specialist will answer your questions as soon as possible.
We will send a reply on your email.